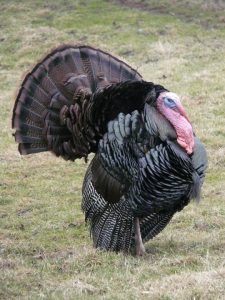 If you think that life in the suburbs is boring, think again. It is full of surprises, especially if you have a backyard where creatures small and big make their home. Whether you like it or not, you become a witness to all the exciting, cruel and beautiful drama that nature has to offer.
Every late afternoon, two female turkeys come by for their supper. They are large animals, with iridescent feathers, the color of bronze and copper. Their heads are small, reddish brown and their wattle is modest, unlike the tom turkeys' incredibly elaborate appendage, turning blue, red or white, depending on their emotional state. My two females come all the way up to the French doors, waiting while they groom themselves. They wait for me to step out and spread bird seeds on the grass. Now they are impatient, following me around the yard until I have emptied the container. I sit down on the bench and watch them eat, a few feet away from me.
Suddenly, their small heads jerk up. They run to the edge of the yard, making a strange clucking sound. I don't know why. But then I hear faint high-pitched squeaking come from the next yard. I recognize it as a turkey chick's call for his mother. I know this, because every morning we have another female turkey come into the yard with seven little baby chicks in tow.
Why is it calling? Where is its mother? We stand there, the two turkeys, and I, peering through the trees, trying to figure out why and from where the chick is calling.
It stresses me out and I decide to get back in the house. A while later the mother hen shows up. I am afraid of counting the chicks, knowing that if I come up short of the number seven, something dreadful has happened. But they are all there.
High above, in the blue sky, a hawk is calling to his mate. In an instant the chicks have disappeared in the bushes. The mother keeps calmly eating, knowing that she is too big to serve as the hawk's lunch.
It takes a while, but one by one the chicks come out of hiding. One, two, then four. They are now all hopping around the mother; some are lying down, as if eating is too much effort for their little bodies. Seven little fuzz balls darting around this calm and elegant creature. Occasionally she puffs out her wings and sprints after a squirrel that ventures too close to her brood. After a while they slowly move off into the woods.
All is quiet for a few hours. The birds are loud, especially one blue jay, who thinks he owns the place. He flies back and forth from the trees to one of the birdfeeders, as if he cannot make up his mind where the best spot is to show everyone that he is the boss.
My cat Emmy, who has the luxury of owning an outdoor enclosure that my husband and I built, is watching a small bunny gulping down clovers. The bunny knows he is in no danger and Emmy knows it is a 'look but don't touch' affair. She is probably not ok with that, but that's life.
Here come the squirrels. They are the kings of this dominion, not just because of their number but because they have been here forever. Their great-great grandparents already inhabited the trees and underground burrows. They are hyperactive creatures, everything has to be done at lightning speed, digging, climbing, chasing each other and scratching their ears. But then, for no apparent reason, they stand on their hind legs, their white furry bellies exposed, and stand there frozen in time, for minutes on end. Just as suddenly, they resume their frantic activities.
Being a witness to all this magic is wonderful, but the stress of not knowing when, how and who will fall victim to the red-tailed hawk makes this backyard adventure more suspenseful than a Netflix who-done-it.
The attack is always unexpected, usually at the most peaceful moment on a lazy afternoon. A dark shadow suddenly swooshes down, grabs a small creature with its powerful claws and, as silently as it came, it flies off with its prey, flapping its majestic wings while it disappears amongst the trees.
Squirrels and pigeons are too big to be scooped up that way and would struggle too much, so they must be finished off first. A hawk will stand on its victim, kneading it like a peace of dough, feathers or fur flying in the air, blood tinting the green grass, until the struggle slowly ebbs. It sometimes takes too long and bearing witness to a hawk killing is too demoralizing. But it always ends with the hawk flying off with a limp peace of meat hanging from its claws.
Today it is raining. The birds are wet, the turkeys are wet. One mother hen with a half grown turkey chick is waiting for food. The chick is shy, but the hen approaches me as she hears me shake the container full of seeds. They eat quickly and leave, looking for a dryer place under the trees. A little bird is caught in my cat's enclosure. The top is covered with deer fence netting, which I quickly remove so she can fly out. My cat looks on, thinking thoughts that I would rather not know about.
Indian summer has arrived. My vegetable garden is still pumping out tomatoes and beans, but everything else is slowly turning brown and yellow. The air is filled with the sweet smell of decaying vegetation and soon we will begin preparing the beds for winter.
Two tom turkeys come prancing into the yard, marching side by side, like soldiers in a parade. One is bigger, with a longer blood red wattle, his head bright blue. Both have puffed themselves like balloons that are about to explode. They slowly turn this way and that, in unison, as if they were a Siamese twin. This show goes on for a long time and I am wondering why, since there are no hen in sight. They must be trying to impress each other, I suppose.
Ah, here comes a hen. She ignores them, paying only attention to the sunflower seeds in the grass. The long-wattled tom approaches her in slow motion, puffed up to the max. She pays no attention. He finally hops on her back, this huge monster trying to balance on her much smaller body. He has difficulty staying up there, especially when the other tom approaches and manages to push him off. This ritual keeps repeating several times, until the hen decides to walk away, probably thinking that these two idiots don't know what they are doing.
And so it goes, every day brings a new drama with it. As winter approaches, the deer appear, when food has become scares. They know we fill the deer feeder every morning and they faithfully show up, usually a small group of 4 or 5. One of them is limping and a large growth is visible on one of her hind legs. The other deer make room for her to take a turn at the deer feeder. By the end of winter, they are skin over bones and their coats are dull. Many of them will have died of hunger. But these beautiful, elegant creatures are tough and the ones that survive the winter show up with a fawn or two to nibble on the birdfeeders, sticking their long tongues into the openings that are meant for small bird beaks.
So you see, there is no shortage of entertainment in my neck of the woods. In fact, I am thinking of cancelling my membership to Netflix. I just don't have the time for it any more. Besides, why waste precious money that I could spend on buying more birdseeds?